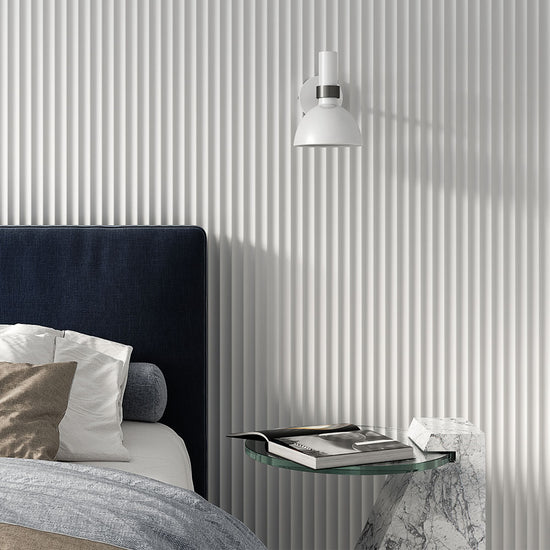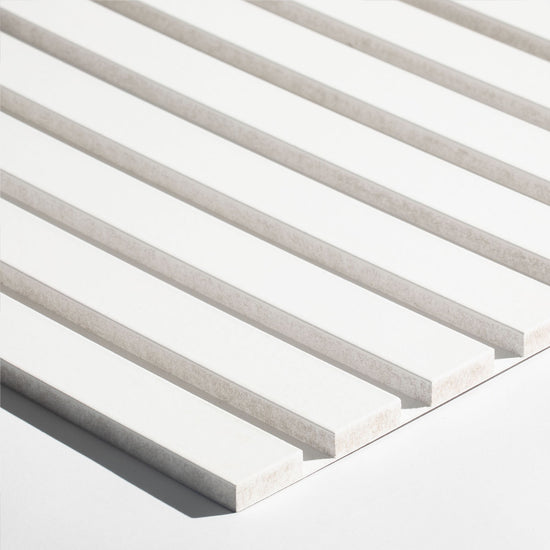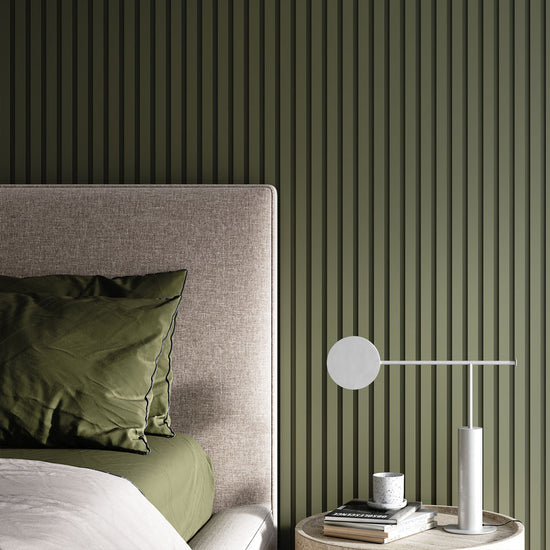 Paintable Fluted Wall Panel
Regular price
$231.00
Sale price
$210.00
/
Need help calculating boxes required?
Fluted and Ribbed panels restocking in 6-8 weeks, contact us to preorder.
With Slatted, Fluted, and Ribbed patterns available, our paintable wall panels are perfect for adding extra texture and dimension to any space. Primed with a water-based primer and ready to paint, each panel fits together with a repeating pattern and can be installed with screws, nails, or adhesive in minutes.
At a full 8' in length, an entire full length wall can be transformed in a fraction of the time when compared to custom millwork or half-length wall panels.
Made from high density, ultra-low VOC MDF, each panel is safe for all residential and commercial applications. Simply paint your colour of choosing, and enjoy.
Each box contains (4) pieces that fit together seamlessly to cover 94.5"x45" (see exact panel widths below).
To install, simply place the panel(s) in the desired location and use either adhesive, finishing nails, or screws to fasten the panels to your desired surface. For nail or screw installations, filler should be used to cover any holes prior to painting.
Orders ship from our facilities in Toronto, directly to your door. Orders of 2+ boxes ship free to all Canadian provinces. US orders do not qualify for free shipping at this time, but there are no duties payable upon delivery.
Most orders are processed and shipped within 3 business days unless otherwise noted. We ship across the contiguous USA and to all Canadian provinces.
Orders of up to 9 boxes ship via parcel mail with tracking information. No signature is required for delivery.
Orders of 9+ boxes will ship on a pallet with curbside delivery and call-ahead service. Signature is required for shipments of this size, and someone will need to be on-site to carry the boxes inside.
Each box measures 96"x13"x2" and weighs 27lbs.
What do I need for installation?
The Paintable Fluted Wall Panels can be installed with nails, screws, or adhesive. Nails or screws should be inserted through the front of the panels, and covered with filler prior to painting the panels.
Can I cut the panels?
Yes, absolutely. The panels are made from MDF and easy to cut using a handsaw or a circular saw.
Can I hang a TV from the panels?
We don't recommend hanging a TV directly from the panels, instead cut out a gap for the TV mount and mount it to your wall as you regularly would. From there, you can install the panels around the mount before hanging your TV from the mount.
How do I wash the panels?
The best way to wash the slats is with a well-wrung cloth or duster. If you ever want to clean the felt between the slats, simply use a vacuum.
The paint you choose to paint the panels with will have a large effect on their cleanability. We recommend eggshell paint for high-traffic areas, consult with your local paint dealer for details.
What's your return policy?
Please read our Shipping & Returns policy here.
What happens if my order arrives damaged?
We're 100% committed to your satisfaction. Send us an email at support@andorwillow.com with images of the damage within 48 hours of delivery, and we will find a solution for you immediately.
Panel Sizing:
Height: 94.5" (2400mm)
Thickness: 0.35" (9mm)
Width: 11.34" (Fluted & Ribbed) or 11.57" (Slatted)
# of Panels Per Box: 4
Sqft Per Box: 29.76 (Fluted & Ribbed) or 30.38 (Slatted)
Weight (per panel): 5.3lbs (2.3kg)
Weight (per box): 27lbs (12.3kg)
Materials:
Panels constructed from solid MDF (800kg/m3 density)
PVC film backing adhered to the back of the panels for added strength
Panels are spray-primed with a formaldehyde-free, water-based primer