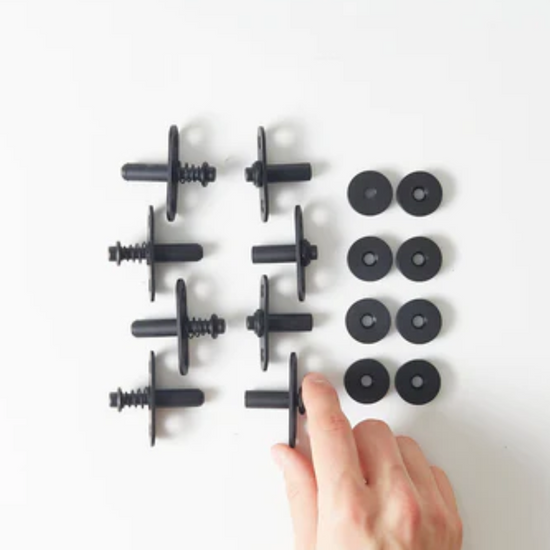 Room Divider Hardware Kit
Need help calculating boxes required?
Enter the width you want to cover with the room divider to calculate how many slats you'll need.
Enter your dimensions in inches.
12″
4.8″
Drag to adjust spacing
8' European Oak: Preorder to reserve, ships by January 15th
8' American Walnut: Preorder to reserve, ships by January 15th
9' European Oak: Preorder to reserve, ships by January 15th
9' American Walnut: Preorder to reserve, ships by January 15th
Extremely limited inventory available.
Preorders are fully refundable up until tracking information has been provided via email.
One hardware kit will be added to your cart automatically for every box of Wood Slat Room Divider slats in your cart. 
The hardware kit is complimentary with the purchase of the Wood Slat Room Divider, and the discount will be applied at checkout.
The hardware kit cannot be purchased individually.
Price is per box. Each box contains four (4) wood slats in your chosen finish and length.
One hardware kit is included for every box in your order.
To install, screw or adhere the included plates to your floor and ceiling, respectively. Screws are included in the hardware kit.
Next, use a screwdriver to fasten the included hardware to each slat using the included screws and predrilled holes.
From there, the slats can be easily fit into the floor and ceiling plates, making for a simple and low-profile installation.
Our Wood Slat Room Divider ships from our facilities in Toronto.
Orders are processed and shipped within 3 business days unless otherwise noted above the "Add to Cart" button.
Orders of 2+ boxes ship free across Canada, not including Yukon, Nunavut, and the Northwest Territories (inquire about shipping rates to these locations).
For USA orders, add the boxes you need to your cart to see shipping costs.
Orders of 3+ boxes ship on a pallet with curbside delivery. The carrier will call you in advance. For orders that are shipped on a pallet, someone must be on-site to receive the shipment. The delivery driver will lower to the pallet to the ground for you, and the individual boxes can be unloaded by hand.
Each box weighs 40lbs.
Have questions about shipping? Contact us and we'll be more than happy to help!
What do I need for installation?
Hardware and the needed screws are included. You will need:
Drill
Level
Laser level
Measuring tape
Pencil
What height should my ceiling be?
Can I cut the slats?
Yes, absolutely. The wood slats are easy to cut, we recommend a circular saw or mitre saw with a standard wood blade for best results. The pre-drilled holes for the hardware are 40mm (1.57") deep, so any cuts of more than that length to either end will require you to drill the holes for the hardware again.
Can I hang things, like hooks or art, from the slats?
We can't recommend hanging anything from the slats. Always consult a professional.
How do I wash the slats?
To occasionally remove dust, the slats can be wiped down gently with a dry cloth.
What's your return policy?
Please read our Shipping & Returns policy here.
What happens if my order arrives damaged?
The slats ship in triple-walled hardboard packaging that is 100% recyclable, so shipping damages are very unlikely. However, we're 100% committed to customer satisfaction - if your order arrives damaged, please send us an email at hello@andorwillow.com with images of the damages within 48 hours of delivery, and we will find a solution for you immediately.
Slat Width x Depth: 12cm x 3cm (4.7"x1.2")
Slat Length: 94.5" or 106.3"
Acceptable Ceiling Height Ranges (without cutting the slats down to length):
8' slats: 95.7" - 97.25" (243cm-247cm)
or
9' slats: 107.5" - 109" (273cm-276.85cm)
Pre-drilled hole depth: 4cm (1.57")
Core material: Solid Carbonized Pine
Veneer Material: American Black Walnut or European White Oak
Slat Weight: 7-10lbs each