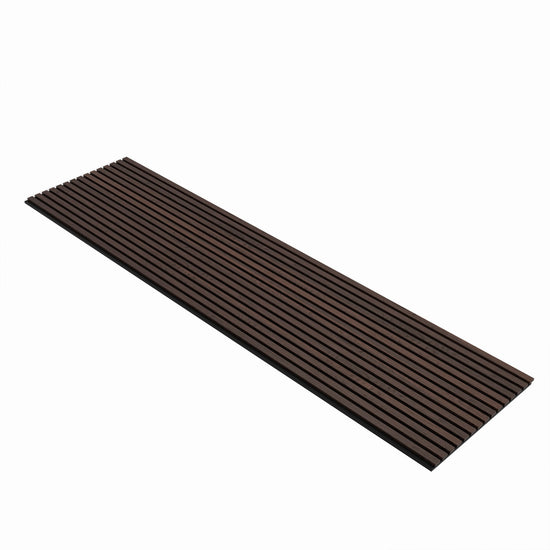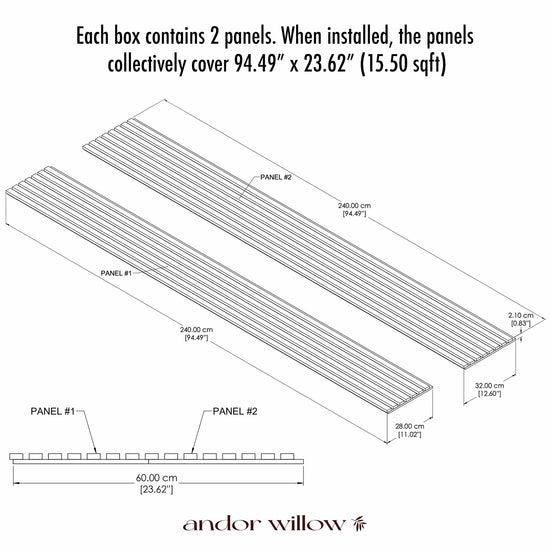 Need help calculating boxes required?
Shipping in 3 business days or less.
Fitting in between the warm tone of Walnut and jet black finish of our Charcoal Panels, our brand new Smoked Oak finish is a gorgeous European Oak, smoked and textured for an authentic, traditional wood finish. The warmth of the wood and slight undertone variations between slats add depth and authenticity to the panels, while the acoustical felt backing reduces echoes in your space by up to 100%.
Each wood slat panel comes fully assembled, with each slat securely attached to the felt backing and ready for installation. The panels can be easily cut on site, allowing for unique combinations and total customization.
The panels come smoked and textured with a real, European Oak wood finish.
Each box contains (2) pieces that fit together seamlessly to create one 94.49" x 23.62" panel. The tongue-and-groove design of the panels allows them to be installed side-by-side, creating one, uniform slat wall with no vertical seams or gaps.
To install, simply place the panel(s) in the desired location and drill through the felt into your desired surface. From there, the panels are only as permanent as you want them to be - they look like they were built-in from the beginning, but come down in seconds if needed, with virtually no damage left behind.
Behind the wood slats is 0.38" PET felt, which is made from recycled water bottles and 100% recyclable. This backing holds the slats permanently in place, and makes installation a breeze.
Canadian orders ship from our facilities in Toronto, and USA orders ship from our facilities in Pennsylvania.
Most orders ship via courier mail. Tracking information is provided via email once your order is processed.
Orders of 9+ boxes ship on a pallet with liftgate service and curbside delivery.
Orders are processed and shipped within 3 business days unless otherwise noted. We ship across continental North America, not including the Canadian territories (Yukon, Nunavut, Northwest Territories).
What do I need for installation?
For installation, you will need a drill and any appropriate fastening hardware. For example, if you're mounting into drywall (rather than studs), you'll want to purchase drywall anchors with the appropriate screws. Please note screws are not included with the panel.
Can I cut the panels?
Yes, absolutely. The panels are easy to cut using a handsaw or a circular saw. Simply measure twice and cut once!
Can I hang a TV from the panels?
We don't recommend hanging a TV directly from the panels, instead cut out a gap for the TV mount and mount it to your wall as you regularly would. From there, you can install the panels around the mount before hanging your TV from the mount.
How do I wash the panels?
The best way to wash the slats is with a well-wrung cloth or duster. If you ever want to clean the felt between the slats, simply use a vacuum.
What's your return policy?
Please read our Shipping & Returns policy here.
What happens if my order arrives damaged?
Send us an email at hello@andorwillow.com with images of the damage within 48 hours of delivery, and we will find a solution for you immediately.
| | |
| --- | --- |
| Height | 94.49" (240cm) |
| Width | 23.62" (60cm) |
| Depth | 0.83" (2.1cm) |
| Slat Width | 1.06" (27mm) |
| Slat Depth | 0.47" (12mm) |
| Width Between Slats | 0.51" (13mm) |
| Slat Finish Material | Wood Veneer |
| Slat Core Material | MDF (CARB P2 Compliant) |
| Backing Material | Polyester Felt (Made From 100% recycled materials) |