10 Stunning Ideas for the Perfect TV Accent Wall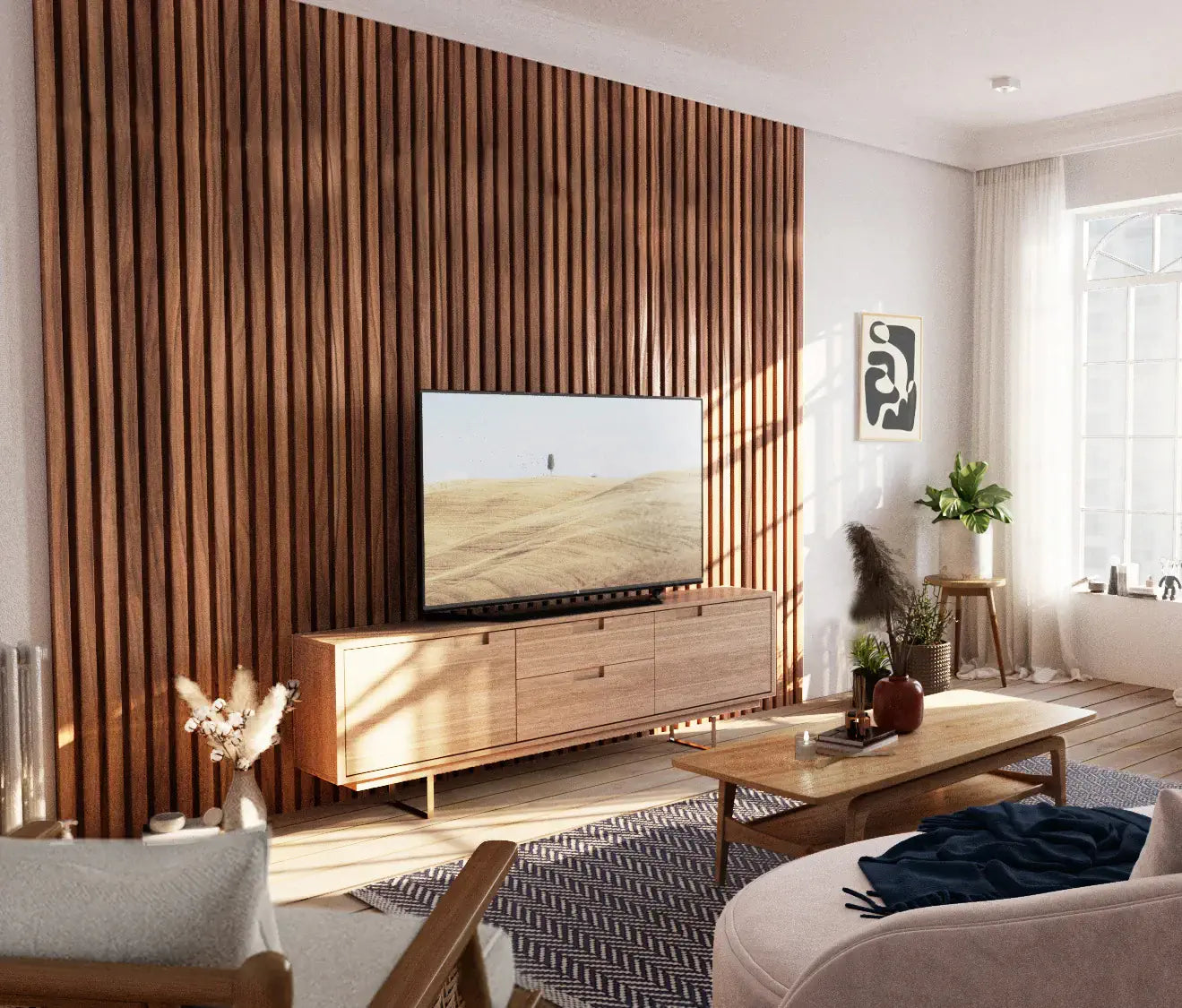 When it comes to creating a focal point in the living room, Architectural Digest always seems to forget one thing: the TV. While staged TV-free living rooms with massive art prints and elegant fireplaces look great, they don't reflect the reality that 99% of our living rooms centre around…the TV.
And why shouldn't they? The living room is made for comfort and relaxation, and entertainment usually accompanies both of those things. The unfortunate truth is that while TVs are essential to any modern living room, they're not that great to look at when they're not in use.
Unless you're willing to fork out $3500 for the Samsung Frame and create the gallery wall needed to "hide" the fact that you have a TV, you'll want to find a way to make your TV wall just a little more interesting to look at. This is where the TV accent wall comes into play, and there's a couple different ways you can go about it.
Today we're going to break down some of our favourite ways to create a TV accent wall, from the vertical wood slat TV wall, to the concrete TV accent wall, and a few other ideas you may not have heard of! 
1. Marble & Wood Slat TV Accent Wall
While marble has had a "moment" over the last few years, its timelessness can't be denied, and the same goes for wood accents. Marble and wood combinations, when done right, can create a backdrop for your TV that is minimalist, yet far from boring or cliche. The white marble grabs the eye, while the wood slats break up the brightness of it and add a touch of warmth to the space. These two materials combined allow your TV to look like a complimentary part of the space visually, rather than a dark, drab square sitting aimlessly in the middle of the room.
To budget something like this out, you can check out these marble-look panels from Lowe's. If you want to know how much it would cost to use real marble, take the price of that Lowe's product and multiply it by about 100x (kidding, but not really).
Budgeting the wood slat portion of this look should be a bit easier, but still varies quite a bit depending on whether or not you're installing the wood yourself, the species of wood you're using (for example, solid walnut costs a heck of a lot more than stained ash or pine). Another option is to use walnut wood slat wall panels, which have a real hardwood surface with an engineered MDF backing, keeping them affordable without sacrificing on the premium aesthetic of a wood slat tv wall. 
2. Classic Tongue and Groove TV Accent Wall
Tongue and groove or beadboard wall panelling is a classic look, but one that can be overdone if not executed tastefully. Here, the panelling works well because it's painted a dark color, providing a backdrop for the white oak shelving to pop out from, while naturally camouflaging the TV at the same time. The minimalist vertical lines of the beadboard wall panelling add a touch of texture reminiscent of the 50s, without feeling dated or overdone.   
3. Painted Black TV Accent Wall
If you want to skip the wall panelling while still helping your TV "blend in" to the space, a painted black accent wall is a great option. While you won't get any of the texture that comes with the tongue and groove panelling or black wood slat wall panelling, you will get a clean, minimalist look with a great pop of contrast.
You can paint the whole wall if you have a narrower space, or go with a clean line to create some separation in a wider living room, like La Piece did with the project pictured above. Just don't forget your frog tape when you go that route!
4. Concrete Wallpaper TV Accent Wall
Not every interior is suited for this look, but concrete wallpaper can make an incredible accent for the right space. Apartments that already have a bit of that "loft aesthetic" can be taken to the next level by integrating the look of exposed concrete, especially behind the TV. Try something like the Concrete Wall mural from PhotoWall to emulate this project. 
5. Black Wood Slat TV Accent Wall
If you're trying to keep your living room dark and minimalistic while still incorporating some texture, a black wood slat wall behind your TV is probably the best option. The best way to achieve this look would be to get yourself some black wood slat wall panels, which have exploded in popularity across Canada and the US. After that, all you need is the TV stand with the fireplace inside of it. When you find that, let us know!
6. TV Wall with Wall Frame Molding
Wall framing, also known as wall frame molding, is another look that's taken off recently, and you can see why. The style dates back to the 1750s, and definitely adds a touch of victorian elegance to any room, in this case, the living room. Not only does it make the space feel mature (without being old-fashioned), but it also frames the TV the way it may have framed a painting back in the day. Add a few coats of forest-green paint and you'll be living like European royalty in no time. There's a great blog post on This Old House about how to DIY a project like this.
7. Vertical Wood Plank TV Accent Wall
Is it extravagant and outside our budget? Yes. Is it gorgeous and worth mentioning? Also yes. This modern-yet-rustic living room boasts the trends of today (hello, curved furniture) without losing the timelessness that characterizes great design. That timelessness can almost always be achieved by using real materials, in this case, wood, to make a statement. While we might consider the flooring on the ceiling to be a tad much, the natural oak accent wall is still a winner.
8. Vertical Wood Slat TV Wall
This look combines a bunch of the projects we've looked at already - you get the interesting texture of the slats, combined with that natural oak wood grain that is so irresistible, especially if you're going for a Scandinavian or Mid-century Modern aesthetic. If you're feeling confident, you can turn this into a full-blown DIY project, or you can use wood slat wall panels to recreate this project.
9. Frame TV Gallery Wall
OK, not an accent wall per se, but it's worth an honourable mention at least. LA-based marketer Luis Arturo has used the aforementioned Samsung Frame TV, combined with framed art prints from Framebridge to create this gallery wall around the TV, which is basically indistinguishable from the art. Definitely not as minimalistic as the other styles we've looked at, but beautiful nonetheless if you're going for something a bit more eclectic.  
10. Walnut Vertical Wood Slat Wall
Ok, guilty as charged, we just can't get enough of this look. Wood slat walls feel modern and contemporary, but have also been a central part of Japanese and Scandinavian design for centuries. This juxtaposition makes wood slat accent walls one of those perfect home projects, because you know it will look just as timeless in ten years as it does today.
So, which one is your favourite?
---
6 comments
---
---