How to Create an Interior Vertical Wood Slats Wall in 2023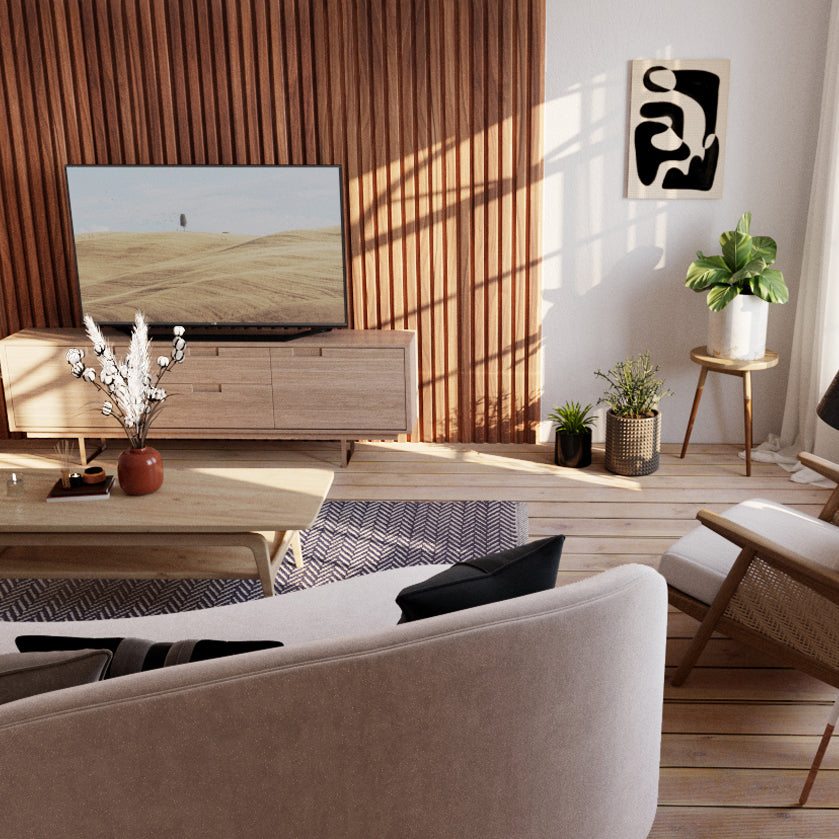 How to Create an Interior Vertical Wood Slats Wall in 2023
As we enter 2023, many of us are thinking about ways to upgrade our home that feel modern and classy, without breaking the bank. Some have been renovating throughout the pandemic, while others have held off (thanks, lumber prices) and are thinking 2023 might be the year that those old walls finally get updated.
When it comes to wall cladding, it's important to think about the long-term impacts of your installation. Plastic or faux cladding can seem fun at first but quickly appear dated, and shiplap seems to have run its course….for now.
If you're thinking about adding a feature wall to your space that you want to stand the test of time, a vertical wood slat wall may be perfect for you.
While geometric slats have been running a bit wild lately (see above), vertical wood slat walls are timeless because of their simplicity and minimalist design. Straight lines are pleasing to the eye, and compliment nearly any aesthetic without being overpowering or overwhelming. This is what has led to the resurgence of this look around the world, from Japan, to Scandinavia, and finally to North America.
So, how does one create an interior vertical wood slats wall in 2023? There's a few options, for the DIYer, the part-time DIYer (we see you) and the i-dont-like-tools-please-do-it-for-me…er.
1.  Use Wood Slat Wall Panels
The best way to create an interior vertical wood slat feature wall is to use wood slat wall panels, ideally from a top-rated supplier such as andor willow. These panels are made using a combination of real hardwood, MDF, and polyester felt from recycled materials. 
When compared to the price of solid walnut, oak, or ash, these panels will often draw even on material cost alone. But the best part? They reduce installation costs by up to 90%, as any part time DIYer or handyman can install them out-of-the-box in under an hour.
Anyone who's tried to have a renovation completed in the last few years will tell you, contractors are not easy to come by these days. If you want something made-to-order, you're going to have to pay a pretty penny. Housing markets, labour shortages, raw material shortages…you've heard it all before! These factors make decorative wood slat wall panels ideal if you want a quality installation at an affordable price.
Want to learn more? Check out our blog on how to install wood slat wall panels from andor willow.
2. Create a DIY Wood Slat Feature Wall
If you're the handy type yourself and you want to create a DIY wood slat feature wall, that's totally possible too! 
You'll need to purchase your wood pre-cut, or if you have a table saw you can purchase larger pieces and rip them yourself. From there, you'll want to sand each slat, before applying a wood stain to bring out the wood grain and protect the wood.
You can either screw the slats into your wall and apply wood filler overtop, or use a strong adhesive to glue them to your wall instead. Make sure you use a spacer to ensure each slat is straight and evenly spaced!
While it's not a job we'd be up to, we definitely commend anyone who takes this on! There's some great blogs about how to do this around the web.
3.Bespoke Wood Slat Wall Solution
If you have the budget for it, you can hire a design firm to create a wood slat feature wall in your home. We've heard of quotes for this kind of work going as high as $2,000 for labour alone, but design firms are obsessed with perfection and that's what you're paying for. 
They will assist you in choosing the wood, the exact specifications, and ensuring that a top-notch professional is responsible for the creation and installation of the slats.
What option suits you best? DIY, out-of-the-box, or bespoke? Everyone's budget and expectations are different, but we'd love to hear your thoughts. Comment below! 
Looking for more inspiration? We're accent wall experts: 

1. Creative Ideas for Your Very Own Kitchen Accent Wall
2. Elegant Accent Wall Ideas to Elevate Your Bathroom Walls
---