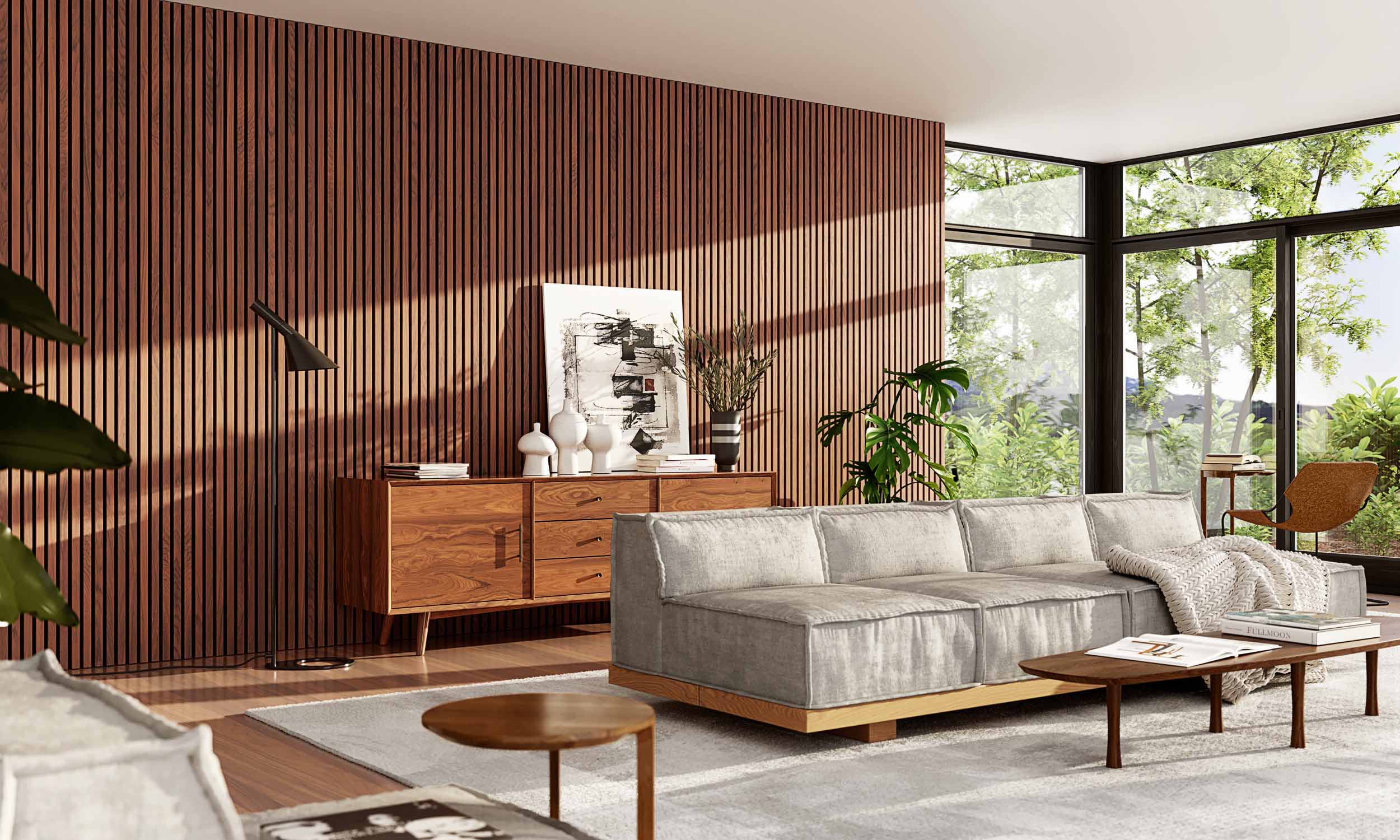 Wood slat wall panels for modern spaces. Easy to order, easy to install.
Our signature wood slat acoustic panels are designed in Toronto, Canada, and allow you to completely transform your space both visually and acoustically.
---
Make it yours
Fully Customizable
Lightweight, flexible and easy to work with, our wood slat wall panels can be easily cut, fit, and customized on-site to perfectly suit your project.
.
Pre-Finished Wood
Like humans, wood has the potential to age gracefully–but only when it's treated right.
That's why we treat all of our decorative wood panels with a UV stain and/or a matte lacquer, ensuring they only get better with time.
No need to stain the panels yourself - simply unbox and install.
8' and 9' lengths available
9' Ceilings? We've Got You Covered
Available in our most popular finishes, the Tall Willow Panel is 9' in height, allowing you to create a seamless floor-to-ceiling wood slat feature wall, no cutting required.
.
Timeless, by Nature
Nothing beats the real thing.
We only offer our slat wall panels with real wood finishes because we know they'll outlive any faux material - both functionally and aesthetically.
Shop these real-life spaces
Thanks to the acoustical felt backing, our wood slat wall panels are flexible (yet sturdy!) and can be installed vertically on curved walls. We recommend at least a 3' radius for curved wall installations. If you're not sure if our decorative wood panels will work for your project, feel free to send us photos of your space, and we'll be happy to provide you with an expert opinion.
The panels can be installed with adhesive or with screws, and the best installation method will depend on various factors like location, material (concrete, drywall, etc), and tools available. 
When installing the panels over drywall or studs, we typically black screws, about 1.5" in length, for our  panels with black felt. For panels with grey felt, we recommend silver or gray screws, stainless steel, or zinc-plated.
When installing the panels on concrete walls, adhesive or silicon is a popular installation method. Adhesive should not be used for ceiling installations due to safety concerns. We recommend construction adhesive rated for all surfaces to adhere to the felt backing - brands like Gorilla and LiquidNails both have reliable products for this type of installation.
Yes, you can install our wood slat wall panelling in well-ventilated kitchens or washrooms that don't exceed 60% relative air humidity. We recommend installing the panels at least six feet away from showers to avoid any moisture buildup. Since our wood panels are already pre-finished, they can withstand light and occasional splashing on the wood surface.
All of our wood slat wall panels come pre-finished and ready to install, so we do not recommend painting or staining the panels further as the pre-finished wood will not absorb the paint/stain evenly.
Our White Oak wall panels are finished with a clear coat matte lacquer, while the Brown Oak and Walnut wall panels are stained and then lacquered with a matte finish.  Our Charcoal black wood panels are made with a European Oak veneer and painted matte black.
Our standard-sized wood slat wall panels are about 8 feet (94.49") in height, and we also offer 9-foot tall wood panelling (our Tall Willow Panel is 107.9" in height).
For walls over 9' in height, you can cut extra pieces of the panels with a circular saw to add extra height. Because our panels are all pre-finished to a consistent wood tone, seams will be minimal if installed correctly. If needed, wood filler can also be used to mask any seams after installation!
Yes, you can install our panels on the ceiling. For safety reasons,  we always recommend the most secure installation type for ceiling installations, which is fastening the panels with screws into your joists. If the panels are going to be installed parallel to the joists, you can always add battens to the ceiling first, and mount the panels to the battens. You can read more about how to install wood panels on the ceiling here.
Absolutely! We recommend that you mount the panels by screwing through the felt backing into the wall or ceiling so that whenever you move out, there are only small screw holes left behind. While most jurisdictions allow for minor wear and tear (including holes from hanging decorative items), you can always fill the holes with wall putty and your walls will be as good as new. We don't recommend installing the panels with adhesive onto drywall if it's not a permanent installation, as removing the adhesive will likely damage the walls. 
Because our panels are made from MDF and real wood veneer with a polyester felt backing, they're not suited for outdoor use.
Unfortunately, we don't supply individual slats without felt backing, but we do offer our Wood Slat End Piece accessory, which can be used to add extra length or height to projects, or add trim around things like electrical outlets and windows.
Absolutely! It will take a little bit of planning and accurate measurements, but it can definitely be done. We always recommend having a solid backer (either a premade door or a solid material like wood or MDF) to fasten the panels to, as they have a felt backing and some natural flexibility as a result.
Read our article on How to Create a Hidden Wood Slat Door.
Need a hand with something like this? Contact us for expert support.
Our decorative acoustic panels have been tested using the ASTM C423 method for three distinct installation scenarios.
When mounted directly on a solid wall (concrete or drywall) the panels have a Noise Reduction Coefficient (NRC) of 0.55, indicating about 55% noise reduction.
When mounted on battens with a 1.5" air gap between the panels and the wall, they have an NRC of 0.85, indicating about 85% noise reduction.
When mounted on an insulated stud wall, the panels boast an NRC of 1.05, indicating up to 100% noise reduction and sound absorption.
We don't have a showroom at the moment, but that doesn't mean you can't see our products in the flesh. Our fully-refundable samples allow you to feel and touch our decorative wall panels in person before placing your order.
Better Acoustics, Better Living
Our wood slat acoustic panels have been tested using the ASTM C423 method, and are proven to have some of the best sound-absorption ratings in the industry.
---
.
One Box, One Tree Planted
By planting one tree for every box we sell, we've been able to plant over 6 football fields of new forests to date, in the areas that need it most.
This is just one part of our mission to become a 100% carbon-neutral company in 2023.
.
Meet andor willow
andor willow was born from the desire to make renovations easier for today's homeowners and trade professionals.
While design is always evolving and improving, renovation projects never seem to get any easier.
By offering expert support, fast shipping, and artisan product quality, we strive to help our customers make their renovation projects as inspiring and enjoyable as they should be, every time.
Wood Slat Wall Panels
Launched in 2021 and always improving, Willow Panels are decorative wood slat wall panels that can transform any home, office, or business both visually and acoustically. With a noise reduction coefficient (NRC) rating of 0.55-1.05 (depending on the installation style), our exclusive wall paneling line ensures your space sounds as good as it looks. 
By offering a curated selection of wood types and sizes, we have everything you need to create a wood slat accent wall or ceiling that adds a natural, timeless beauty to the interior of your home or workplace.
(Actually) Easy to Install
Our beautifully crafted wood slat wall panels are truly easy to install, and we include a printed instruction manual inside every box. The panels can be installed as they come, or they can be customized to meet your requirements by cutting them or joining pieces together to create longer panels, shorter panels, or specific shapes.
The acoustical felt backing of the panels can be cut with a knife, while the slats are easily cut with any standard wood saw (handsaw, jigsaw, table saw, etc). The panels can be screwed into ceilings, and also installed on walls with screws, nails, or adhesive.
Why Choose Decorative Wood Slat Wall Panels from Andor Willow?
We're a growing business, on a mission to make renovations easier and more enjoyable for today's homeowners and trade professionals across North America. To accomplish this, we only offer products that are as functional as they are beautiful, easy to install, and made from real, quality materials that will stand the test of time.
Not only that, but we guarantee friendly, expert advice throughout the entire process - from initial questions, to delivery updates, virtual help with installation and more, we're there for our customers at every step of the way.
We believe that our customers are our greatest source of growth, and we frequently call and survey customers to see how we can improve. Since our inception in 2021, we've made dozens of product and packaging iterations to continually improve our offerings.
As part of our commitment to sustainability, we plant a tree for every panel sold in areas most in need, and are on track to plant over 10 football fields of new forests in 2023. In addition, our acoustical felt backing is made from 100% recycled water bottles, and we're working to soon offer 100% carbon-neutral shipping as part of our journey towards being a 100% carbon-neutral company.
Lastly, we're one of the only companies to offer a pre-finished wood slat panel. Not only does this make for a simple, beautiful installation, but it also allows us to ship our panels without any plastic wrapping (unlike competitors) drastically reducing our carbon footprint.
Noise Reducing and Soundproofing Panels
Nothing ruins a comfortable, relaxing, or productive environment like echo and excessive noise reverberations. Whether you're outfitting a new office or decorating your home, our decorative acoustic wall panels are an excellent way to control unnecessary noises and create a calm, tranquil environment. 
Our acoustic wood panels boast a Noise Reduction Coefficient (NRC) of 0.55 when mounted directly on a solid surface with no insulation added, indicating approximately a 55% reduction in echo. When mounted directly onto an insulated frame, the NRC of the panels is over 1.0, indicating up to 100% noise reduction in your space. 
For reference, the average carpet (typically known for its sound absorption qualities) only has an NRC of about 0.35, meaning that our acoustic wall panels can reduce echo in your space nearly 3x as much as installing carpeting. Not bad for something that looks this good!
Caring for Your Wood Slat Wall Panels
Because we pre-finish all of our wood panels, our vertical wood slat wall panels are protected against sunlight, fingerprints, light splashing and regular wear and tear. Keeping these beautiful, unique wooden wall panels clean is as easy as occasionally running a damp duster across the surface. If your acoustic panels become stained, lightly rub them with a soft-bristled brush and neutral pH soap. Wipe the surface with a soft cloth afterward. Because they're typically installed vertically, our panels rarely collect dust - but if you ever want to clean between the slats, simply use a vacuum!
Find Your Style With Our Curated Line of Decorative Wood Slat Wall Panels
Different types of wood are available, each with its own unique characteristics. Regardless of which wood finish suits your space, the minimal nature of our wood slat wall panels will add the modern wood wall paneling that your space needs. You can choose from a variety of wood options for your decorative acoustic wall panels, including:
Walnut Wood Slat Wall Panels
Walnut interior wood slat panels walls will give any corner of your home a warm, welcoming, and inspiring look, reminiscent of classic mid-century designs with just the right touch of modernity. The panels can be installed in the living room, bedroom, or anywhere where a unique touch of natural warmth is needed.
Because our Walnut Willow Panels are stained and then lacquered, they are protected against light splashing or fingerprints, are wipeable and easy to clean. Not only that, but the professional-grade finishing ensures the wood will age gracefully over time.
White Oak Wood Slat Wall Panels
White oak is a quintessential Scandinavian wood that will transform an otherwise plain space into a calm, tranquil environment. The acoustic wood slat wall panels will reduce echo (by up to 100%) and provide a grounded atmosphere in bedrooms, offices, and living areas. In addition, the decorative wood wall panels can be used to cover up unwanted areas or wall imperfections, such as hairline cracks or switchboards.
The White Oak Willow Panel is available in 8' or 9' lengths, with options for Black or Grey acoustical felt backing.
Black Wood Slat Wall Panels
The bold and eccentrically original Charcoal Willow Panels are crafted from European Oak veneer and painted matte black for a dark, brooding finish with a subtle wood grain under the surface. The thoughtfully designed vertical wood slat panel aesthetically transforms space, creating a quiet and sophisticated environment that contrasts beautifully with lighter design elements.
Our customers have installed these black wood slat panels on walls, ceilings, and tight corners, around fireplaces, in kitchens, and in hundreds of other applications! 
Brown Oak Wood Slat Wall Panel
Our Brown Oak Wood Slat Wall Panels offer a wood tone between our White Oak and our Walnut wood panels, matching perfectly with organic color palettes to create a warm, cozy aesthetic. Just like our White Oak panels, the real oak wood veneer is heat bonded to a matching brown-colored MDF, ensuring the sides of the slats blend in flawlessly with the real wood veneer surface.