Elegant Accent Wall Ideas to Elevate Your Bathroom Walls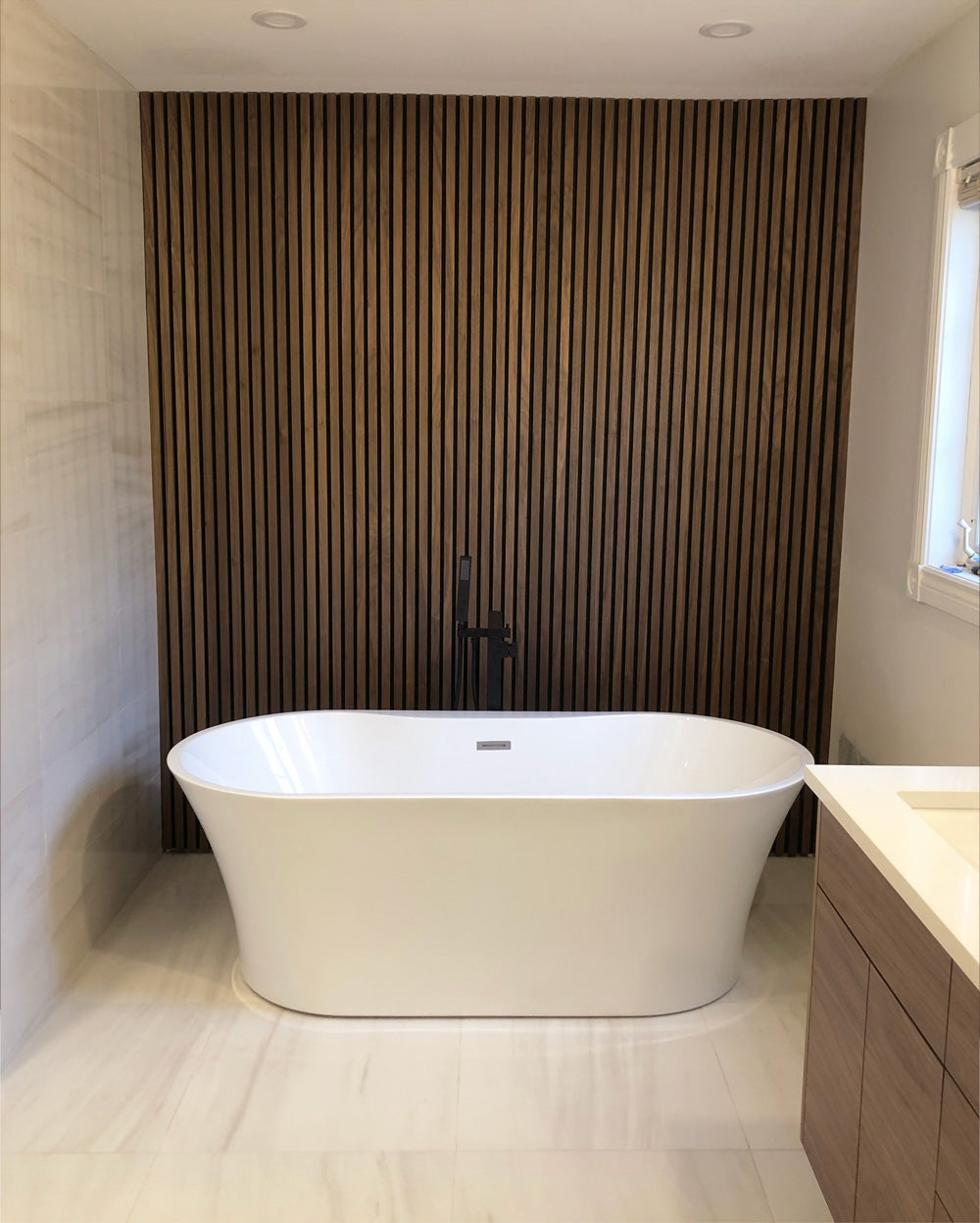 An accent wall is one of the easiest and most efficient ways of upgrading your bathroom. The trend of creating accent walls in bedrooms, bathrooms, and other places of your home started back in the late 90s. It gained immense popularity in the early 2000s and is still one of the best ways to elevate the style of any spot in a room.
In this post, we will discuss creating a statement bathroom accent wall. From wood panels to tiles, wallpaper, and paint, we have explored all the options you can use to create a perfect look for your bathroom.
The Ideal Place for Setting a Bathroom Accent Wall
Accent walls can breathe new life into a mundane or outdated bathroom, it is a canvas that allows you to experiment with different ideas. The trend of establishing accent walls began gaining popularity over 20 years ago and continues to be a top interior design trend for 2023 as well. Be it a fresh coat of paint, or hanging up some peel-off wallpaper, a few simple changes combined with some thoughtful curation can transform your space in a matter of hours.
A bathroom accent wall can be established behind the vanity, directly behind the bathtub, or even in the shower. You can also choose the most conspicuous wall and convert it into a work of art; you are only limited by your imagination.
However, the place of an accent wall in the bathroom should be chosen keeping in mind one simple detail. Some materials such as wood and paper can only be placed in well-ventilated places, away from any direct water.
What Materials Can be Used to Set up a Bathroom Accent Wall
An accent wall is simply a wall that has a different paint color or decoration than the other walls in the space. While paint is one of the most common materials used to create an accent wall, there are countless other options that can make an accent wall a focal point of your bathroom.
Paint and Paper Accent Bathroom Wallpaper
Depending on the style of your bathroom, both paint and wallpaper can be used for an accent wall. If you are going for an upscale design or want to add layers of pattern or texture, wallpaper may be the better choice than paint.
Wallpaper is a great option if the rest of your bathroom features tile walls or is painted in basic colors. Floral wallpaper or other patterns complements the color of your tile with artistic detail.
Creating an Aesthetic Point with Accent Wall Tiles
For a bathroom accent wall, tiles can be a stylish and textural alternative to both paint and wallpaper. Tile accent walls can completely transform a room by adding bold color and dimension. For a spacious bathroom, accent walls featuring tiles can serve both as a focal point and as a backdrop that highlights an individual element such as a vanity point or freestanding bathtub. One major advantage of tiles is they can be used anywhere in the bathroom without being damaged from water or high humidity.
Wood Accent Wall Bathroom
Wood is a popular material choice for bathroom accent walls, and for many reasons. It offers diversified options; you can opt for natural wood tones and clean, straight lines (wall paneling) as well as funkier options such as 3D textures and shapes. Furthermore, wood accent walls can be more timeless than other options, thanks to the natural quality of wood and the spa-like feeling it adds to a bathroom or powder room. 
Bathroom Accent Walls: Design and Customization
In order to create a personalized and customized accent wall for your bathroom it is essential that you choose a design that resonates with the overall style of your space. The outcome should give you the desired effect. There are many different designs and options available for panels, including:
Horizontal slats: For a more traditional and down-to-earth look, horizontal wood slats and horizontal shiplap are a classic choice. They can create a warm and rustic feel depending on the type of wood and finish, and whether or not you opt to paint the paneling once installed.
Vertical slats: Vertical wood slats create a Nordic, spa-like aesthetic and always result in a visually interesting yet minimalist feeling. The vertical lines will also make your bathroom appear taller and more spacious.
Chevron pattern: In this pattern, the wood pieces are arranged in a V-shaped pattern, as you might have seen in chevron wood flooring. This design can add visual interest and depth to a space, but it can also be overwhelming if it's overdone. Make sure you use this style carefully, and try to compliment it with more minimal, laid-back features so as to not make your bathroom too visually overwhelming.
Herringbone pattern: In herringbone accent walls, wood pieces are arranged in a diagonal pattern, creating a unique and stylish look. This design is often used in high-end interior designs and will often increase labor costs, due to the level of skill required to do it properly.
Mixed-width slats: Using slats of varying widths creates a more whimsical, free spirited aesthetic and usually reflects the character of the homeowner. This design is used to create a more rustic or bohemian feel and definitely reflects someone who likes to showcase their fun personality in the design of their home.
Painted or stained wood paneling: Wood slats or wood panels can be painted or stained in a variety of colors to match any design style of your choice, adding subtle textures while still allowing you to fully customize your space with the colors of your choosing.
Different Types of Wood Panels that Can Be Used for Bathroom Accent Walls
Wood paneling offers you a lot of options when it comes to choosing the best aesthetics for your home in general and for your bathrooms in particular. There are several types of wood paneling that can be used as wall accents in different areas of your home.
Reclaimed Wood Panels
The reclaimed wood panel adds character and texture to different parts of your home such as the bathroom and living room accent walls. Reclaimed wood utilizes lumber rescued from old barns, warehouses, and factories and is, therefore, more eco-friendly than the new wood.
For those who want a rustic look with an old-world charm then reclaimed wood paneling is your go-to option. It is usually stronger than new boards, and can also be used as flooring, bathroom vanity, and outdoor furnishing.
Wainscoting
Wainscotting is wood paneling applied to the lower portion of the walls. Beadboard and v-groove paneling are traditional options, but any "half-way-up-the-wall" method is considered wainscoting. This stunning wall paneling is one of the favorite interior design options for different portions of a home. Depending on the wall length the standard heights for this type of paneling are 36 inches, 42 inches, 54 inches, and 72 inches. The wainscot paneling is capped off with decorative molding or a narrow picture shelf.
Board and Batten Wood Paneling
The textured wainscoting that runs all the way to the ceiling is known as board and batten wood paneling. This traditional wall paneling method uses wide boards installed vertically with narrow battens to cover the seams. The width of the boards and battens depends on the size of your walls.  
Shiplap 
Shiplap can be installed horizontally or vertically, when installed horizontally it gives a more traditional and slightly rustic aesthetic, whereas installing it vertically adds a more modern and sleek feeling to a bathroom. These edges fit together with water-tight construction. You can mimic this traditional paneling with any wood boards installed horizontally on the walls, even if they lack the signature notch of genuine shiplap. This type of paneling is one of the popular bathroom accent walls usually built behind the vanity points, as well as on the ceilings of the bathroom irrespective of its size and color scheme.
Beadboard Paneling
Beadboard is a flexible way of installing decorative paneling. It can be installed either halfway up the wall or from floor to ceiling, depending on the look you're hoping to achieve. The flat panels are separated by grooves that give this molding a more cohesive look. Incorporating beadboard paneling into your bathroom decor offers a charming and classic approach to accent walls, whether you choose to install it halfway up or from floor to ceiling, its flat panels and distinctive grooves create a cohesive and visually appealing effect.
Vertical Wall Paneling
This is a classic form of adding wood panels to any space inside your home. It is versatile in terms of matching color and adaptability with the overall interior design of your place. Vertical wall panels became popular in the 70s, and currently, the style is making a huge comeback. It's incredibly customizable and is a versatile choice for any room inside your home including bathrooms, living rooms, tv rooms, and bedrooms. These panels can be mounted on walls as well as on ceilings.
3D Wood Paneling
The 3D wood paneling is more contemporary. It has a style quotient that can jazz up any living room and create a bolder statement. The 3D wood paneling offers a modern and stylish solution to elevate the look and feel of your living room with its bold statement and captivating design. While the paneling can require a bit more care and attention to maintain its beauty, the visual impact it creates is worth the effort.
Tips on Customizing Wood Panels for Bathroom Wall Accents
Customizing wood slat panels is a great way to add a personalized touch to your bathroom. However, while installing a wood panel bathroom accent wall the key is to choose materials that can withstand high moisture levels. It is advised that the panels be installed at a place that is properly ventilated. It is essential to install Andor Willow's wood panels only in well-ventilated bathrooms where the relative air humidity remains below 60%. This is because higher humidity levels can lead to the deterioration of the MDF core in wood slat wall panels. Fortunately, our panels come prefinished with a matte lacquer, which provides a water-resistant surface capable of enduring light splashing.
Choosing the right wood species will have a big impact on the look and feel of your panels. Consider the natural color, grain pattern, and texture of the wood species, and choose one that complements your bathroom style.
You can choose from a variety of panel designs. Think about the overall look and feel you want to achieve, and select a design that will work best with your bathroom decor.
If you're unsure how to customize your wood slat panels, consider working with a professional interior designer or with an experienced seller. They can help you select the right materials and designs to achieve your desired look.
Creative Ideas to Use Wood Slat Panels in Your Bathroom Accent Wall
When using wood slat in your bathroom, it's important to choose high-quality wood that can withstand high moisture levels typically found in bathrooms.
Wood slats can be used in a variety of ways, from covering an entire wall to creating a smaller accent area. Here are some ideas for using wood slat accents in your bathroom:
1.     A wood slat accent wall: For a dramatic and eye-catching look, cover an entire wall of your bathroom with wood slats. You should choose a wood that complements your bathroom decor, such as richly-grained walnut.
2.     Design Your Own Vanity Spot: You can design your own vanity spot by framing your bathroom mirror with wood slat panels. This can be an easy and fun DIY project completed on a weekend.
3.     Use wood slats as a backdrop for shelves: If you have built-in bathroom shelves, consider using wood slats as a backdrop to add warmth and texture to the space.
Accent Wall in Small Bathroom
An accent wall can make a small bathroom look bigger in several ways. By incorporating unique designs, colors, and textures into your accent wall, you can create the illusion of a larger and more open bathroom.
Choosing light colors for your small bathroom accent wall:
Light colors can make a space feel more open and airier. Consider using light-colored wood slats for your bathroom. You can also use paint for an accent wall to visually expand the space and make it more vibrant.
Create depth with diagonal and chevron patterns:
Diagonal or chevron-patterned wood slats or tiles can add visual interest, texture, and depth to your accent wall.  
Adding mirrors to the small bathroom accent wall:
Mirrors create the best illusion of making any space appear bigger than its actual size. They reflect light and make a small bathroom feel more spacious. Incorporate a mirror into your accent wall design; you can use different shapes and sizes and can jazz up the overall arrangement by adding spotlights to complement the mirrors.
Keep it simple:
A cluttered or busy accent wall can make a small bathroom feel even smaller. Keep your design simple and clean to avoid overwhelming the space.
Highlight architectural features:
If your bathroom has unique architectural features, such as a vaulted ceiling or a skylight, consider using your accent wall to highlight these features. This can draw eyes upward and create the illusion of a larger space.
5 Wall Ideas for Small Bathrooms
Adding visual interest and texture to a small bathroom can be a great way to make it feel more spacious and inviting. Wallpaper, mosaic tiles, and paint could be the building blocks to create a stunning and personalized bathroom. Let's have a look at how creative you can be with simple features.
1. A bold wallpaper:
Small bathrooms do not need to be boring, add a bold wallpaper and create your own vibrant space. From bright colors to extravagant and over-the-top designs, you can go as wild as you like.
2. Add texture with paint:
Using textured paint, such as a plaster or stucco finish, can add depth and texture to your bathroom walls. Consider painting one or two walls in a contrasting color to create a focal point. Adding small colorful plants can really enhance the overall vibe of your small bathroom.
3. Create a mosaic tile feature wall:
Adding a feature wall of mosaic tiles can create a central point. The overall impact can be increased by adding lights and complementary small-sized mirrors.
4. Add a tiled accent:
Adding a small tiled accent, such as a border or backsplash, can add quality and detail to a small bathroom without overwhelming the space. You can use a contrasting color scheme or tile patterns to decorate an otherwise neglected corner.
5. Use a combination of textures:
By combining different textures, such as textured wallpaper and a tiled accent wall, you can create a layered and interesting look in your small bathroom. Be sure to choose textures that complement each other and create a cohesive design.
Accent Tiles in Shower: How Can Accent Tiles Add a Personalized Touch to Your Shower Area
Different patterns and colors used in tiles can create a cohesive look in your bathroom in a variety of unique ways.
Let's have a look at some tips on how you can use accent tiles in your shower.
Bold pattern
A bold patterned tile will be the most noticeable component of an otherwise mundane shower. For a little extra, you can use colorful and geometric patterns.
Mix and match
Mixing different types of tiles can create a tailored look. You can combine different colors, textures, and materials to fashion a cohesive and exciting design.
Add texture
Incorporating texture into your shower design not only enhances the visual appeal but also elevates the tactile experience. You can achieve this by selecting tiles with raised patterns or embossed designs, creating a dynamic and engaging surface. Alternatively, opt for natural stone tiles like slate, travertine, or limestone to bring an earthy, organic feel to your shower. 
Use a focal point:
Using an accent tile as a focal point can draw the eye and add interest to your shower area. For this purpose, mosaic or patterned tile offers the best decorative features.
Create a border:
This is a simple yet one of the most elegant ways of decorating the shower area. Adding a border of accent tiles around your shower area can create a polished look. A contrasting color or texture will be the best choice to achieve this look.
Adding a Black Accent Wall to Your Bathroom
Nothing speaks bold and dramatically louder than a black accent wall erected in a conspicuous corner of your bathroom. Here are some design tips for using a black wall as a statement accent wall in your bathroom:
A high-gloss finish: A high-gloss finish can add shine and luxury to your bathroom accent wall. You can create a more dramatic effect by adding modern LED fixture lights to create an effect of scattered light.
Add metallic accents: Incorporating metallic accents, like brass or copper faucets, can transform your shower area into a luxurious sanctuary reminiscent of a high-end commercial spa. These sophisticated and elegant touches elevate the overall shower experience.
Use lighting to highlight: Use lighting to highlight your black accent wall by installing wall sconces or a pendant light right above your black wall.
Keep other walls light: To avoid overwhelming your space, consider keeping your other walls light-colored. This can create a balanced and harmonious design and will also divert attention toward the black accent wall.
A Classic Combination of Black and White in Your Bathroom Accent Wall
Using a classic combination of black and white in your bathroom accent wall can create an elegant look that stands the test of time. Let's have a look at some designs for incorporating black and white into your bathroom accent wall:
Using a patterned tile:
A black and white patterned tile will create a timeless piece right inside your bathroom. Consider using a bold pattern; checkered like chess pieces, and keep the rest of the walls, floor, and ceiling white. The wall will be a work of art and an instant attention grabber.
Mix and match tiles:
Mixing different sizes and shapes of tiles in black and white can create a unique and personalized look. Consider combining subway tiles with hexagonal or mosaic tiles to create a varied and interesting texture.
Add a black border:
Adding a black border around your white tiles, and framing the entire white of the accent wall will create a sleek and polished look. This can also be an aesthetically pleasing vanity spot if you add a wooden chest of drawers along with a mirror.
Use black and white wallpaper:
Black and white wallpaper can be a timeless and elegant accent wall in your bathroom. However, if your washroom is too damp and there is little or no option for ventilation, then wallpaper might not be a good idea.
Pair with white fixtures:
Pairing your black and white accent wall with white fixtures, such as a white sink or toilet, can create a striking contrast. You can also add a white marble counter and other decorative items to complete the overall look.
Your bathroom accent wall is a great way to show your personal style. There are multiple ways that can be adapted to create a statement choice. Whether you choose wood slat panels, tiles, or wallpaper and paint, the end result should make you feel happy. Once you are done decorating the accent wall for your bathroom do share the results with us.
---