How to Make a Wood Slat Accent Wall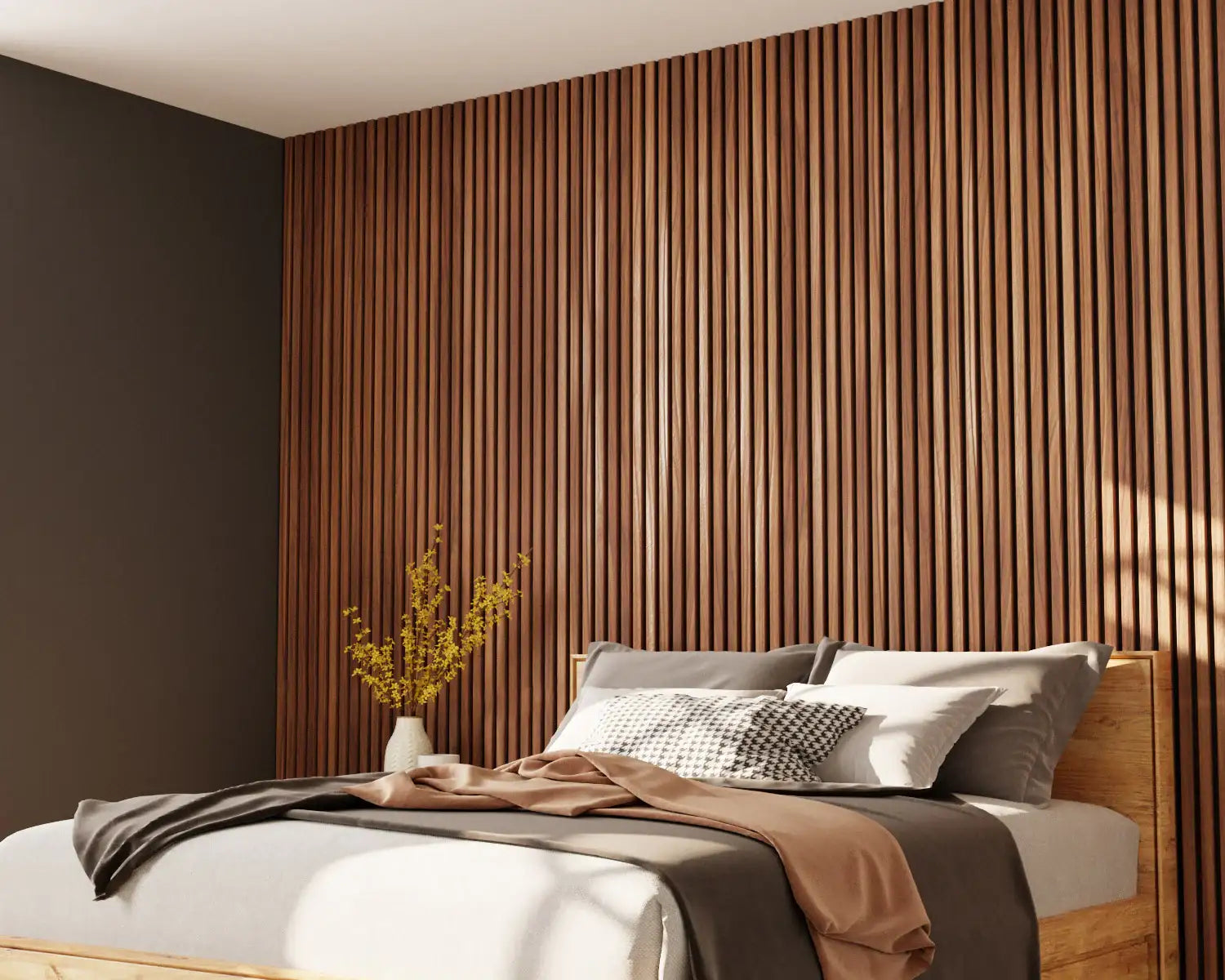 Wood slat accent walls are exploding in popularity, and for good reason. Wood slat wall panelling adds a modern yet classic touch to any room, without feeling stuffy or dated.
The clean vertical lines combined with natural wood grain elevate your home's aesthetic, without breaking the bank.
Luckily, this noteworthy feature can be added to your home too, even without a million-dollar budget. You can either DIY the project from scratch, or you can purchase wood slat wall panels that only take an hour or two to install. 
Whichever you choose, this unique accent wall design will elevate your home's design for years to come, undoubtedly impressing your guests and creating a modern statement piece in any room.
How to build a DIY wood slat accent wall from scratch
To make a wood slat accent wall from scratch, you'll need to purchase the wood in sheets, usually found at Home Depot or a similar home improvement store. From there, you'll need to rip the sheets into slats, stain them (remember to use a conditioner if it's a softwood like pine or cedar), and attach them to your wall.
You can build a grid first and hang that (as seen above) or drill the slats directly into your wall, depending on the surface material. What's important to remember here, is that any grid you build behind the slats will likely be visible, but if you drill directly into your wall, you'll need to use wood filler and/or paint to fill in the drill holes.
All that being said, the final product will look great. Just don't expect it to be a walk in the park, this is definitely an intermediate or even an advanced DIY project. All credit to u/NeededANewName on Reddit for sharing this amazing project!
Make a wood slat accent wall using wood slat wall panels
Wood slat wall panels are the perfect choice if you want to build a wood slat accent wall or wood slat ceiling, without all the manual labour of buying the wood, ripping, staining, filling, and hanging your individual slats.
These panels are available in Canada and the United States, and are usually shipped to your door in a matter of days.
To make a wood slat accent wall using this method, simply order your panels and prepare your tools.
The essential tools are:
Drill

Black drywall screws

Self-drilling drywall anchors (if installing into drywall)

Level

Tape measure
If you're thinking of cutting the panels to size (which is entirely possible), you'll want the following:
Circular saw or jigsaw

Utility knife

Carpenter square

Sanding sponge

Pencil
Above: The Walnut Wood Slat Wall Panel from andor willow
Once you receive the panels, clear your installation area of debris and start with the first panel. There's even detailed instructions on how to install the panels that will help you nail the installation (pun intended) the first time!
Wood slat wall panels are gorgeous when they're finished, but can be somewhat intimidating as a DIY project.
The good news is, they don't have to be! You can easily achieve this exclusive look with a some good planning and basic tools. Just be patient, take it one step at a time, and you'll have a space that feels brand new in no time.
How would you create this look in your home? 
Looking for room specific accent wall inspiration? Take your pick:
Elegant Accent Wall Ideas to Elevate Your Bathroom Walls

Creative Ideas for Your Very Own Kitchen Accent Wall
10 Creative Accent Wall Ideas for Your Home Office
Designing Your Own Stunning Living Room Accent Wall
10 Bedroom Wood Panel Wall Ideas That You'll Fall in Love With
---